A well-equipped two-wheeler may be the perfect vehicle to ride out the apocalypse. These nine are the sickest, most hardcore, most versatile bikes designed to do just that.
Best Motorcycles to Bug-out After the Apolcalypse
#1: Ducati 1199 Panigale TerraCorsa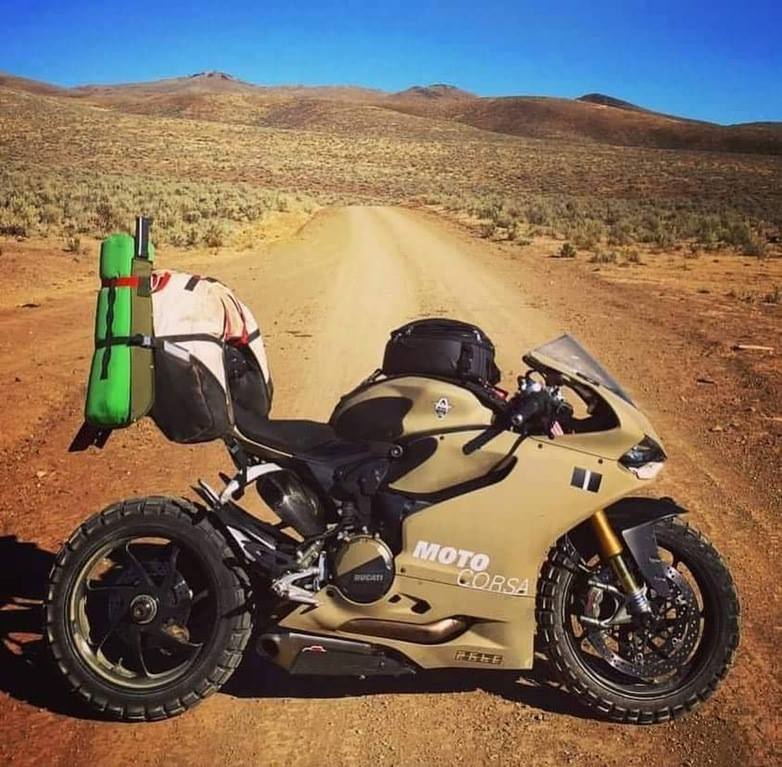 Portland's MotoCorsa is well-known as one of the Northwest's sickest Ducati dealers. They started with a 2013 Ducati 1199 Panigale S, heavily modified it for offroad use, and dubbed it the Ducati 1199 Panigale TerraCorsa.
According to them:
We painted the bodywork that Desert Storm color then, depending on your perspective, raised or lowered the suspension. We dropped the forks as low as we could in the triple and raised the shock's ride height as much as possible; the idea being to max out the ground clearance. it probably only got us a half inch or so, but that's something. Then, we went through the suspension settings and made everything as soft as possible so we could mimic an off-road bike's travel.
In action:
Pros:
Insanely fast, both on- and offroad
Legendary Ducati quality
Killer looks
Cons:
Limited availability
Low ground clearance for an offroader
#2: Trials Bike
Trials bikes are purpose-built for offroad stunt riding and not much else. But that means they're designed to go almost anywhere — dirt, mud, cliff jumping, running rivers … whatever. They'd be ideal as a compliment to your existing bug out vehicle plan (e.g. throw one in the back of your truck for when you need to get somewhere your truck just can't go).
Pros:
Capable of going almost anywhere
Lightweight and portable
Super easy handling
Cons:
Limited range (small gas tank)
Not ideal as primary mode of transportation
#3: Tarus 2×2 Off-Road Motorbike
Leave it to the Russians (the same crazy folks who brought us this bug-out-worthy beast) to invent a collapsible, offroad motorbike capable of going anywhere. The purpose-built Tarus 2×2 is ultra-light, small, and folds down/sets up in less than five minutes. Given its primary use as an offroad vehicle, it's best as a supplementary mode of transportation.
Pros:
Affordable — $1,700 (not bad, given its versatility)
Lightweight
Disassembles for ultimate portability
Capable of going almost anywhere
Cons:
Only available in Russia (for now)
Built exclusively for offroad use
#4: Motoped Survival Bike (Black Ops Edition)
It may seem like a novelty, but Motoped's Survival Bike: Black Ops Edition is purpose-built to ride out the upcoming apocalypse. The company's original Motoped — a conversion kit that consists of bolting a 50-190cc Honda motor to any mountain bike — is a mainstay. But this latest addition ups the ante with a host of zombie-crushing options: an ax, survival shovels, a reserve gas tank, a crossbow, and even a harpoon.
Pros:
Lightweight / portable
Tight design allows it to go anywhere
400-mile range
Foot-powered when your gas runs out
Cons:
Almost $4K
Limited availability
#5: Hayes Diversified Technologies (HDT) JP8/Diesel
Hayes Diversified Technologies has been supplying the U.S. military with custom dirt bikes since the early 1980s. One of their latest models — the JP8 — is built on Kawasaki's KLR650 (also a very capable two-wheeler).
There's a lot to like about this bike, but for SHTF/survival purposes, its most important feature is its multi-fuel capability. While the rest of the world is scrambling to find unleaded gas, this beast runs on both diesel and alternative fuels. And did we mention it's good enough for the Marines?
Pros:
Lightweight
Designed for the U.S. Marine Corps
Extremely durable/reliable
Multi-fuel capable
Cons:
Around $18,000 (!)
Limited availability — not available at retail
#6: BMW R1200 GS Adventure
BMW's R 1200GS Adventure is bulkier than most every bike on this list. But that bulk equates to better durability and the ability to take a beating. It also means that it's capable of carrying plenty of gear — a very good feature in a bug out situation.
Coupled with a 400-mile (or more) range, it could serve as your primary bug out ride. The beefier engine is further proof:
For the R 1200 GS Adventure, torque was given higher priority than output in line with practical considerations. And you can feel it. 88 ft-lb of torque at the peak at 6000 rpm is one thing, but the consistently higher level of torque in the relevant range up to 5000 rpm can be fully experienced. The output has been increased to 110 hp at 7750 rpm.
Pros:
Lots of storage
Killer suspension
More than 400-mile range
Offroad and onroad capable
Cons:
Heavy/bulky design
Expensive
#7: Zero FX Stealthfighter
Electric or gas? Few questions are more polarizing among survivalists when it comes to their vehicles. If you're all in with the electric-powered camp, then Zero FX's Stealthfighter is the two-wheeler for you. It's compact, lightweight, and both on- and offroad capable.
Pros:
Small/lightweight (less than 300 pounds)
Instant 70 ft-lb of torque
Offroad and onroad capable
Electric-powered (solar capable)
Extremely quiet motor
Cons:
Electric-powered
Limited (70-ish miles) range
#8: KTM 1290 Super Adventure R
KTM's flagship Adventure line of two-wheelers packs a sh*t ton of features. The top-of-the-line 1290 Super Adventure R is the company's most extreme of all, packing "1.301cc, 140 Nm of torque and 160 hp into the world's most advanced Travel Enduro chassis." The three offroad modes are purpose-built to tackle seriously tough terrain.
Pros:
Powerful engine and extreme power-to-weight ratio
On- and offroad capable
Legendary KTM reliability
Three offroad ride modes
Cons:
Fancy electrical coveniences provide additional points of failure
#9: Christini AWD 450 Military Edition
It goes without saying that the best bike for a survival situation is likely to be one that's military tested and approved. Enter Christini's AWD 450 Military Edition. The relatively tight package fits a 450cc, liquid-cooled, four-stroke engine and it can be customized to fit almost any purpose. Baja-style LED headlights, auxiliary fuel tanks, snap-on tool bags, and heavy-duty skid plates are all available. But the best part? Despite it's military moniker, it's available for civilian purchase.
Pros:
Military-grade durability
Extreme offroad capability
Extensive customizations available
And don't miss these eight toughest vehicles to survive the apocalypse!